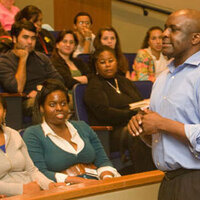 Janet M. Daley Library Lecture Hall
Within the Cardinal Cushing Library is the Janet M. Daley Library Lecture Hall, Emmanuel's 250-seat multimedia facility, which plays host to prominent guest speakers for some of the College's most popular events.
Cardinal Cushing Library, Emmanuel College, 400 Fenway, Boston, MA 02115, USA
Place Type

auditorium, Library

Meet members of the Student Government Association, connect with classmates and start to decide what mark you will make at Emmanuel. You'll learn how to take...
The Catherine McLaughlin Hakim '70 Lecture Series proudly presents: Lives in Limbo: Undocumented and Coming of Age in America Speaker: Dr. Roberto Gonzales,...

In classrooms across America, history lessons focusing the Indigenous peoples of America frequently generalize the experience. Many lessons tend to overlook...
Recent Events